IT WAS the war wound that prevented me getting on with my grandfather. Too late to regret it now but perhaps, a century after he received the blow that crippled him, I can at least attempt to piece together the events around that moment by visiting the place where his life changed for ever. To everyone else who knew him, Bertie Wenn of the Royal Horse Artillery (Essex Division, 1914-18) was a good old-fashioned British hero. Almost a century ago, he suffered a devastating injury amid the mud and blood of Passchendaele that changed his life for ever, when an enemy shell smashed into his lower leg.
He survived and went home to marry his sweetheart, Edith, and ultimately I was born – now his oldest surviving grandchild. But from my earliest days, he terrified me. To a tiny boy, he was a petrifying figure, clomping around with a crude iron calliper on his shattered leg. I used to run away when I heard him coming. As for that wound, I never asked about it. And he was certainly not the sort of man to seek sympathy for himself.
Sometimes he would proudly extract his medals from a battered Wills tobacco tin that sat on the mantelpiece and let me handle them. On special occasions he would light the mini-cigar that perched in the mouth of the Churchill statue on the sideboard. But he always seemed to be in a grumpy mood. "Going off on one," as my grandmother used to describe it.
In retrospect, it is no wonder. But for me, as a member of a generation growing up in the distracting youth-dominated world of the 1960s, tales of the first world war were a turn-off – defined by stuffy school history lessons, grainy photographs and jerky fragments of old Pathé films. Despite our lives overlapping by 28 years – he died aged 85 in 1976 – Bertie and his war wound remained fogged in the remotest of pasts.
The gulf was made even greater by an explosion in the social mobility of the times. What could an empire-loyalist former village lad and his radical university student grandson, who made clear his contempt for all ideas of empire, possibly have to say to each other? So for years we mostly avoided saying anything – even though for much of our lives together we lived in the same house. It was the perfect collision of generations.
Yet throughout this time there hovered the possibility of a conversation that I now deeply regret we never had. Over the 40 years since his death, bringing up my own four children has pushed his life to the very fringes of the family canvas. But then something changed. When my mother died recently, I had to face the sobering fact that time had caught up – I was now the oldest member of our family.
Turning out Mum's bedside drawer I found a photograph of Bertie in his army uniform from a century ago – handsome, full of vigour and on the threshold of adulthood, as I had once been when I turned my back on him.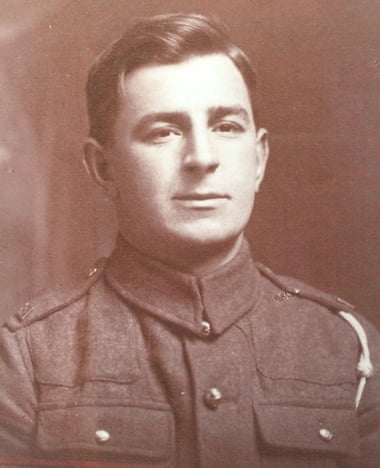 So my inevitable pilgrimage began. This morning, Bertie Wenn of the RHA seems to be marching beside me as a gentle sun blesses the Ypres countryside – so different from this same month in 1917 when heavy rains turned this quiet landscape into a hell of mud and slaughter.
Yet I have with me only a few fragments of the life I never bothered to inquire into. Apart from a couple of tattered sepia pictures, there is just a bare resumé of Bertie's army war record, and a few fragments from my grandmother's diary, recording her resolve to go ahead with marriage to her maimed fiance, written in neat copperplate.
This much I know so far. Serviceman No 622 281 Bertie James Wenn, of the Essex Royal Horse Artillery, joined up on 29 September 1914 and travelled to the western front through France on 15 March 1917. As a village carpenter, he used his skills to attain the rank of "wheeler" – and was known officially, in RHA nomenclature, as "Wheeler BJ Wenn". His job was to do running repairs on the gun carriages so they could continue moving up the front line to fire as their wheels were fractured, either in the mud or by enemy fire.
This, by all accounts, was how he was discharging his duties when shrapnel from a shell smashed his right lower limb at the end of July 1917, so that he would never walk properly again. The records show that he was transferred to hospital in Boulogne, lucky to have a "Blighty wound", which meant he could be sent home to England on one of the many ambulance trains.
The date of his injury, I discover, coincides with the first phase of the Battle of Passchendaele, infamous not only for the scale of casualties – more than 300,000 Allied troops and a quarter of a million Germans perished – but also for the hellish conditions of mud and blood in which it was fought. But quite what happened to him on those fateful days, or where on this vast battle canvas he met his fate, can only be surmised.
Inquiries in the Belgian records draw a blank and although the Commonwealth War Graves Commission keeps meticulous records of the dead, accounts of how injuries were incurred are random and haphazard. None of Bertie's contemporaries survives, and standing on the site of the battle today I grope hopelessly into the mists of time.
I have one more place to try. We all know that Passchendaele was truly an Old Testament vision of hell. But just along the road, behind the lines in the town of Poperinge is a modest lodging house that reflects whatever may be defined as hell's opposite. Except for a battered sign over the door proclaiming: "Every Man's Club", you would pass by without noticing. But for a grandson in search of a grandfather, it is a destination.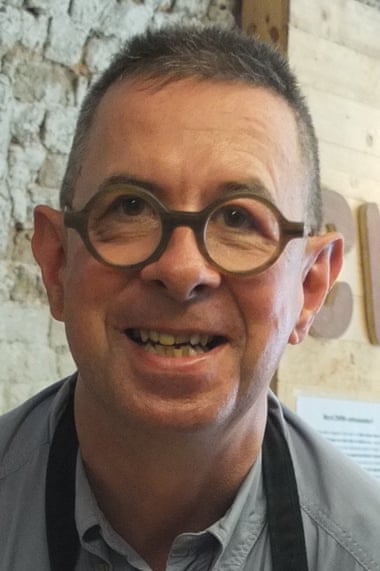 Talbot House was founded a century ago by an idealistic young Army chaplain called Tubby Clayton, who thought soldiers returning from the battlefield might want more than what was on offer in the brothels and bars of the surrounding streets. But it wasn't religion he had in mind. Rather, it was friendship and equality – Talbot House, uniquely, was the only place on the battlefront where men and officers could associate freely as equals. "Abandon rank all ye who enter here", read a sign over Tubby's door. Walking in from the street, you could find generals and squaddies mingling over the house "signature brew" of a cup of strong tea.
No wonder that between 1914 and 1918 tens of thousands of traumatised men flocked to this place and the democratic welcome it offered, including, I am now sure, my grandfather – a lifelong teetotaller, who would have been exactly the sort of man to take advantage of Tubby's generous embrace. (I distantly recall him talking warmly of Clayton, who by the 1950s had become something of an international celebrity.) Here there was companionship and sympathy, sing-songs round the piano, debate and discussion – and soldiers could leave messages for their lost mates in Friendship Corner.
In this curious time-warp of a place, my grumpy, distant grandfather begins to morph into a human being. He would have been a perfect fit here. No womanising, deference to rank or liquor for him – he would have been happiest sitting in the tranquillity of the garden among the roses drinking a cup of "char" poured from a chipped Brown Betty teapot, as I am doing today.
Talbot House is still functioning a century later, its warmth undiminished, and is one of the few places remaining where you can still engage with the spirit of life as it really was during the first world war. Sitting here on this warm autumn afternoon, I cannot ever know for certain that he passed this way, yet I feel I have at last achieved the intimacy with my grandfather that we never achieved in life.
Reaching back to touch him over the space of 100 years, I can feel that the wound that kept us apart is now rapidly healing.
Michael Williams's book Steaming to Victory: How Britain's Railways Won the War is published by Arrow Books, £9.99. Talbot House is open throughout the year and offers overnight stays on a B&B basis info@talbothouse.be talbothouse.be